Saturday, March 19th, 2011
Trincomalee during Portuguese era in Ceylon
Apart from the products and wealth which I have described we could have built great fleets at little expense, as there is an abundance of timber and iron and resin, all article which are largely employed in such work. There is in the island a plant [1] which produces something like our linen thread, out of which the native fishermen make their nets; from this we could manufacture ship shrouds similar to those of Europe, without the coarseness and thickness of coir [the fiber of the outer husk of the Coconut].
In what words should I speak of the harbor and bay "Dos Arcos" [2]? It is the best in the whole of India, with a bottom between sand and clay, and is protected from every wind save the East, which however does not blow except occasionally and then too gently; moreover it contains several inlets, which are protected from this as well.
The chief winds which blow during the year are the North and the South, called respectively Vara and Cachao [3], and they create in the Island two wet and two dry seasons. The longest and most beautiful river in the Island [4] two wet [5] and dry seasons [6]. The longest and most beautiful river beautiful river [7] falls into this bay; its water, which comes from Adam's Peak, is very good, and on its banks are found an abundance of trees remarkable for their size and variety.
A deck could be made in the bay itself, and fleets of numerous ships of any tonnage that is required built there, especially as we had that large river for conveying all the material without any expense; for as we have shown in the tenth chapter of the first book, it is the duty of the woodcutters to fell timber, and of the iron smelters and smiths, carpenters, turners, pile and gun makers, and all other craftsmen in the Island [8], to serve His Majesty [9] without any payment.
The weapons for arming them such as muskets, arquebuses, carbines, bacamartes, spears, pikes, swords, and gun stocks, would cost almost nothing; all these are made in the Island [10] in great abundance and of excellent workmanship. With these our forts and armies would be supplied without the expense which the Royal Treasury [11] would have to meet everywhere else. Their carriage too cost nothing, as it is the duty of the culles to convey them, just as the other entire craftsman has their own duties to perform. So that we can see the great advantages we had for making fleets; a splendid harbor in which to keep them, with liberty to go out and come in without danger at any season of the year, and an abundance of provisions for their use. Yet we never thought of utilizing this harbor for building fleets, which were always the essential requirement in that State.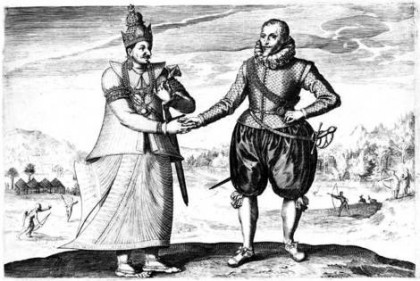 Above narration consists of precise words of  Captain Joao Rebeiro lamenting on the loss of coastal belts of Sri Lanka to the Dutch: "The Historic Tragedy of the Island of Ceilao" dedicated to his most Serene Majesty Dom Pedro the Second. Lisbon, 8th January 1685.
Translated from Portuguese to English by Dr. Paul E. Peiris, 1947, Colombo, Sri Lanka
[1] Crotolaria Juncea
[2] Baia dos Arcos: Trincomalee Bay Harbor, North-Eastern Coast of Sri Lanka Tavel
[3] Varakan (Sinhala: The North-East Monsoon and South-West Monsoon of Sri Lanka)
[4] [8] [10] Sri Lanka
[5] Wet seasons- tropical monsoons: The northeast monsoon (December to March), and the southwest monsoon (June to October)
[6] Dry seasons: November to April main tourist season of Sri Lanka Holidays and May to September for tourism in the Eastern Coast
[7] River Mahaweli Ganga of Sri Lanka
[9] His Serene Majesty Dom Pedro The Second of Portugal
[11] Royal Treasury of Portugal