Taprobane
Taprobane: Ancient Sri Lanka as known to the Greeks and Romans Sri Lanka has been known by a multitude of names during its long recorded history spanning a c couple of millenniums and half. Of all the names that Sri Lanka was known, the names, Lanka, Taprobane and Serendib had lasted to date. Sri Lanka has deeply influenced the ancient voyagers, travelers, navigators and historians of cartography, cosmography and geography. Among Greek historians, navigators and cartographers, beginning with Onesicritus of Astypalaea, a commander in the fleet of Alexander the Great, the most common name for the island was Taprobane. This name was subsequently adopted by all Latin authors as well. It is generally agreed that the name Taprobane was derived from the Sanskrit Tamraparni (Pali Tambapanni) since the latter forms occur both in the ancient Sinhalese chronicles (Mahavamsa and Dipavamsa) and in the Rock Edicts of Ashoka, the great Mauyran Emperor of India with apparent reference to the island of Sri Lanka.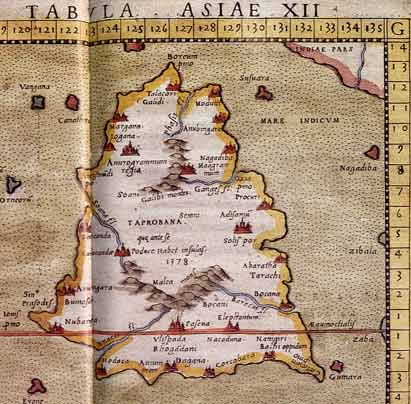 Sri Lanka is the land of delights. Sri Lanka Holidays is the total holiday experience that reveals a significant multitude of diverse attractions in culture, nature, wild life, bird life and marine life.
Writes Edward Ives: Some writers, induced by the excessive fruitfulness of the island of Ceylon have supposed it to be the seat of terrestrial paradise; but this opinion is not mine: that it was the Taprobane of the ancients is not unlikely; and indeed there are strong reasons for believing that the island of Taprobane and Ceylon is the same. The ancient, particularly Ptolemy, observe that Taprobane was famous for producing the largest breed of elephant, which is also true of Ceylon. Taprobane likewise was greatly celebrated for its spices, and in this respect Ceylon may be said to rival it, for it produces not only ginger, pepper and cardamoms, but cinnamon also, and the finest in the world. Again Taprobane is said have abounded with precious stones; so does Ceylon; and its rubies, topazes and sapphires in particular are reckoned the best in the East Indies. Taprobane is celebrated for its great fertility, and in this Ceylon is not at all behind it, for from the luxuriance of the soil, they have five kinds of rice which ripen one after another. From all the above circumstances so exactly tallying with each other, we are led to conclude, that island called Ceylon was the famous Taprobane of the ancients. A voyage from England to India, 1773, London.

Bookmark & Share